Available Everywhere!
Life is Short, Don't Wait to Dance
The choices you make dictate the life you lead. Be bold, fierce and authentic. Choose gratitude, kindness and joy. Learn how to define your own success.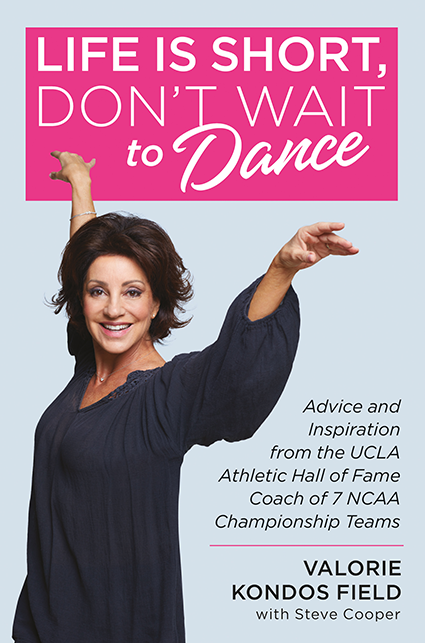 ---
WHERE TO BUY
For bulk orders, please contact Vroman's Boostore.
---
DESCRIPTION
LIFE IS SHORT, DON'T WAIT TO DANCE is a thought-provoking, fun journey through the personal stories and anecdotes of my 36 year career as a Gymnastics coach at UCLA. My story details how I, a professional ballerina, became one of the winningest head coaches in NCAA history. Included are my favorite memories I experienced with my mentor, legendary coach John Wooden; as well as some of my most unforgettable stories of the Olympians and student-athletes I've coached.
I share my biggest blunders and most life changing aha moments as I stumbled through figuring out how I wanted to philosophically lead an athletic team, considering I'd never been a competitive athlete. Many of my coaching choices are unorthodox. They work because they are intentional and meant to embrace my overarching philosophy that athletics is a masterclass in life skills.
I also share the details of my most challenging year when I was diagnosed with an aggressive form of breast cancer. Putting all of my coaching philosophies to use, and using gratitude as my most powerful weapon, I was able to turn a potentially devastating year into one of the most impactful years of my life.
Regardless of your age or occupation, Life is Short, Don't Wait to Dance offers different ways to view life challenges and will encourage you to define your joy, your success and your life one choice at a time.
CONTACT
MEDIA INQUIRIES:
Danielle Dorfman – [email protected]
"LIFE IS SHORT" BULK BOOK ORDERS/
MISS VAL SPEAKING ENGAGEMENTS:
Gary Minzer – 310-600-3596; [email protected]