In honor of Coach Pat Summitt (1952-2016), Legendary Head Women's Basketball Coach, University of Tennessee. In 38 seasons she never had a losing season, finishing with a record of 1,098-208 and making her the winningest NCAA basketball coach in history. In 2012 she was awarded the Presidential Medal of Freedom, the nation's highest civilian award.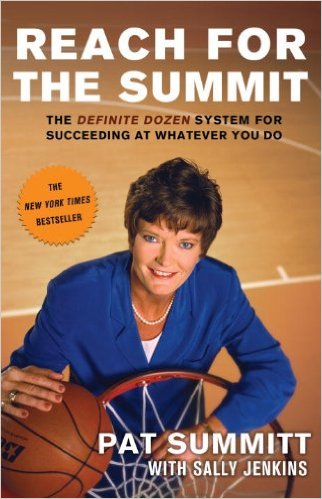 Reach for the Summit: The Definitive Dozen System for Succeeding at Whatever You Do
by Pat Summitt
I read this book many years ago and was struck by the similarities in Coach Summitt's and Coach Wooden's coaching philosophies. Both were meticulously organized with everything that involved the team. Both utilized "the Bench" as their most effective form of punishment; and both emphasized the fact that ethics and success are inseparable.
The part of Coach Summitt's story I was most interested in, mirrored the stories Coach Wooden often told of his childhood. Both grew up with uncompromising and unwavering fathers who taught them the value of hard work, purpose, discipline and dedication through demanding work on the family farm.
Coach Summitt often recounted being 12 years old on the farm in Henrietta, Tennessee when her father dumped her off in the middle of an endless hayfield, gestured toward the tractor and left; obviously expecting his daughter to figure out how to plow the entire field, which while daunting and grueling, she figured out.
Coach Summitt's book, Reach for the Summit, offers an in-depth look into her coaching principles, style and philosophies which all lend to her opening statement that "Winners are not born, they are self made."
Coach Summitt ~ while you now rest in peace, your legacy lives on and strong. Thank you for sharing your wisdom.
Photo by Alice Hampson