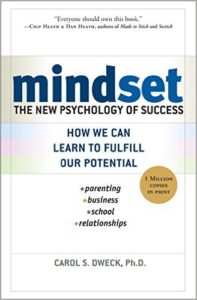 "Mindset: The New Psychology of Success"
by Dr. Carol Dweck
I'm only 24 pages into this book, but I am so excited I can't wait to share!
The author, Dr. Carol Dweck, is a world-renowned psychologist who studies achievement and success and has discovered that far greater than our abilities, talent or intelligence, it is whether we approach our goals with a FIXED or GROWTH mindset that ultimately brings us the greatest fulfillment in our lives.
Dr. Dweck has learned we either have a fixed mindset where we set out to prove our intelligence and/or talent, or we have a growth mindset that focuses on learning and stretching our talents and abilities. This psychology is fascinating to me because it explains a lot of what I've always thought about Failure and what I discussed in my Get to vs Have to and Act As If musings.
Our Mindset is simply a belief we choose. In the fixed mindset, setbacks are classified as "failing." Everything from receiving a poor grade, to getting fired, to "losing" the gold medal and settling for silver is seen as "failure." Taking these exact same circumstances and flipping the mindset from fixed to growth—these same outcomes take on a whole new light and become inspiration and motivation.
With the growth mindset, being able to process and learn something new eliminates the prospect of failure because everything—including setbacks—become an opportunity. The growth mindset allows a life of continuous stimulation and wonder. Choosing to have a growth mindset opens up a world of possibilities beyond the traits I've always resigned to have.
I love the immediate challenge that comes with cognitively embracing a growth mindset. No more excuses that I'm not smart enough, good enough, talented enough or blessed enough. I simply am smart, good, talented and blessed and choosing a growth mindset acknowledges that there are no limitations to my talents, intellect or abilities.
I can't wait to see what thoughts and creativity the next 264 pages in "Mindset" provide. So what's your mindset?
Photo by Gaelle Marcel